Who:
The Lucas Cates Band
What: In Concert
Where: First National Bar -
map
When: Saturday, May 9, 2009 9:30pm
SLG: Describe your genre of music in as much detail as you like. Maybe list your three best crowd-pleasing songs? Can you explain in what way do you most appeal to your fans?
LC:
The Lucas Cates Band is an eclectic mix of acoustic rock: pop/rock/funk/reggae/alt-country/folk/acoustic. Our live show is full of energy and great musicianship. Our strength is in our dynamics, improvisation, and our two-four part vocal harmonies. The records are the songs cut and dry and lack the improv that comes out at live shows. Most people say they like the live show better then the recordings.


Lucas Cates - acoustic guitar/lead vocals
Kenny Leiser - electric guitar/violin/vocals
Mark Noxon - bass/vocals
Jesse Warmka - drums/vocals

This particular line-up has been together for almost two years now. Mark Noxon has been in the group about one year.
SLG: Tell us where you're from and currently based in what town?
LC:
We are from Madison, WI and all currently reside there.
SLG: Past shows or venues you'd like to brag about? Past or future shows
in the Pocatello area?
LC:
Last trip to Pocatello we played a show at Jensen Hall (Stephens Performing Arts Center) to a crowd of about 225 people! Pretty amazing draw for a band from out of town and new to the area. We had a few other shows in town, and over the course of 4 days, sold over 85 CD's! This coming trip to ID, like last time, is part of a four week western tour taking us through IA, NE, MT to Portland, OR, down the coast of CA to Cave Creek, AZ and back through CO and NE again on the way home. May 7-31
SLG: Any comments about the local live music scene, the music industry in general? What do you think is the best way to get your music out there?
LC:
Labels are not what they once were. If a band is willing to put in the work to coordinate themselves and manage their own career, a lot can be done via the internet and phone. It is more about who you know than what you know, and it is simply a matter of getting your name out there and establishing your own network of people that can help you along.

Having been on an indie label before, I would say that being independent is far better in the long run if you are willing to work for what you want. Trouble is, a lot of musicians don't typically have the best work ethic when it comes to the business side of the music. I think that's why you see really popular bands that aren't very good. They may not be great bands, but they, or the team around them, are
doing something right, business-wise, to put themselves in the places they're in.
SLG: Recordings? Will you have CD's or more for sale at the show?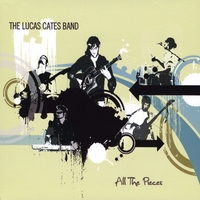 LC:
We have two full-length albums with enough music for a third. Probably will not release anymore records until 2010. Both records "Contradictory" (2006) and "All the Pieces" (2008) will be at our shows for sale and can also be found at ITUNES, CDBABY, and AMAZON.
SLG: How can fans contact you? Myspace? or another website?
LC:
We can be contacted at www.myspace.com/lucascates & lucascates@hotmail.com